While golfing might be all about performance, having some style could attract plenty of attention. As a female golfer, fashion is always an important part of the game and you might be looking for some fashionable outfits for your first golfing outing. There are plenty of Women's Golf Outfit Ideas that one can look for to look great.
Knowing which clothing items are acceptable is a start and once you can find the right clothing items, you can build your custom outfit. This article aims to help you understand which clothing items are the best. These should ensure you make the right decisions and give you plenty of options when choosing.
Women's Golf Dress Code Rules
Much like golfing as a man, there are a few rules when it comes to dressing up for the golf course. These rules are referred to as the dress code and your outfit should abide by the rules of women's clothing for golf. We have found some of the basic dress code rules that should be important when selecting the right clothes for your game:
Rules
The rules state that women golfers should wear a collared shirt and non-denim pants. These can include things like skirts or even shorts depending on the style. Fortunately, there are plenty of variations that you can play with to ensure you meet the standards.
In terms of footwear, the one constant that all golfers need to follow is having a set of golf shoes. You might get away with trainers, but these could limit your performance. Golfing shoes are designed to give you optimal performance and comfort. They will ensure you have the right balance when it comes to playing certain shots on slippery slopes.
More Progressive Rules
Nowadays, the rules are becoming slightly more skewed and women are exploring new and interesting ways of wearing what they like. We see more skirts and shorts on the golf course and often these are slightly shorter than they have been in the past. However, there is still a rule that should not be crossed when it comes to wearing golfing clothes that are too short.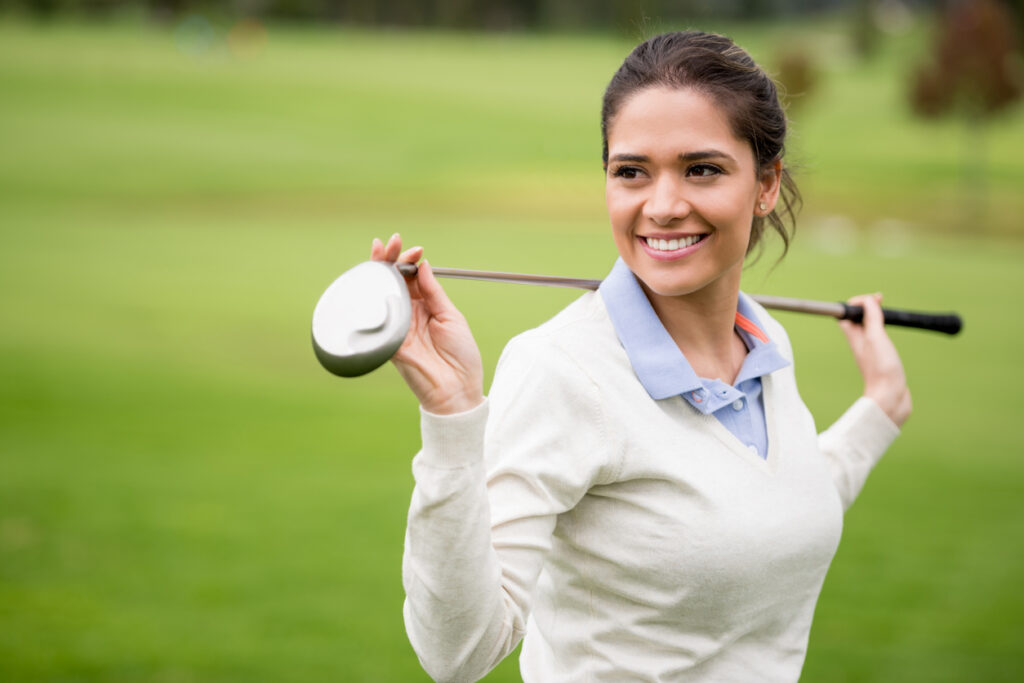 Top 3 Women's Golf Outfit Ideas
Now that you have seen some of the rules, we should look at a few of the ideas that you might want to explore. Many of these ideas will help you be more comfortable and have the best possible outfit. The following is a breakdown of clothing types that female golfers are trying and some that have stuck with fashion trends:
1. White Skort With Colorful Polo Shirt
The traditional tennis outfit of a skort and polo outfit is often a go-to for many women. You can wear this exact style while you are playing tennis, but it has transferred over to golf as well. Once you integrate the right shoes, you will be ready to go and you have to make sure that the skort is not too short.
The HEAD Women's Athletic Tennis Skirt is an all-around option that works for almost every form of sport. It is an affordable option and can be combined with some of the best polo shirts. Since the white color is neutral, it does not matter which option you choose to add to your polo shirt.
2. Golfing Pants And Tank Top
Those looking for a more conservative approach might want to settle for traditional golfing pants. These pants are designed to be comfortable and they can be found in a variety of different colors. However, neutral colors like white, black, and brown give you plenty more options when it comes to the tank top. You can often mix and match the colors.
A tank top should be stylish and fit your golfing sense. You don't want something loose that does not feel comfortable and it should fit to a tee. The Adidas Women's Ultimate365 Primegreen Sleeveless Polo Shirt is one of the most comfortable options and can be worn for almost all occasions. It blends the style of a tank top with that of a polo shirt.
3. A Golf Dress
A golf dress is one of the most common modern forms of clothing that many women gravitate towards. These dresses might seem like they could be for going out, but they have all the features that are recommended for comfort when it comes to golf. Additionally, they are some of the most comfortable golfing options on the market.
These dresses are available in different colors and styles and you can even choose how short you want them to be. The Callaway Women's Sleeveless Polo Golf Dress is one of the most functional options on the market today. It is perfectly tailored to meet the needs of most women and should offer a comfortable fit. Unfortunately, it is a bit expensive.
Why Should You Wear Golf Shoes?
While you might risk wearing trainers, golf shoes have a purpose. These shoes are traditionally used to help improve your performance and to make sure that you have the ultimate comfort when performing. As you can imagine, high heels will heavily impact your comfort and swing, especially on the slopes.
Traditional trainers might not give you the grip you need and while they could be ideal for walking the golf course, you might want to consider golf shoes with spikes. These spikes will help to give your grip on the ground and you have a perfect balance. The PUMA Women's Laguna Fusion Sport Golf Shoe is an affordable option that will give your grip and comfort. It also matches many different outfit ideas.
Wrap-Up
Once you have a few Women's Golf Outfit Ideas, you should be ready to enjoy your outing on the golf course. Every golfer deserves to feel and look great to ensure they can get the best possible performance for their game. These are some of the best ideas that you could integrate with your golfing game to ensure you feel good.