Let's face it, in today's world, it's easy to get caught up in work that you forget about other aspects of your life. For instance, tight schedules can deny you the opportunity to participate in your favorite sporting activities.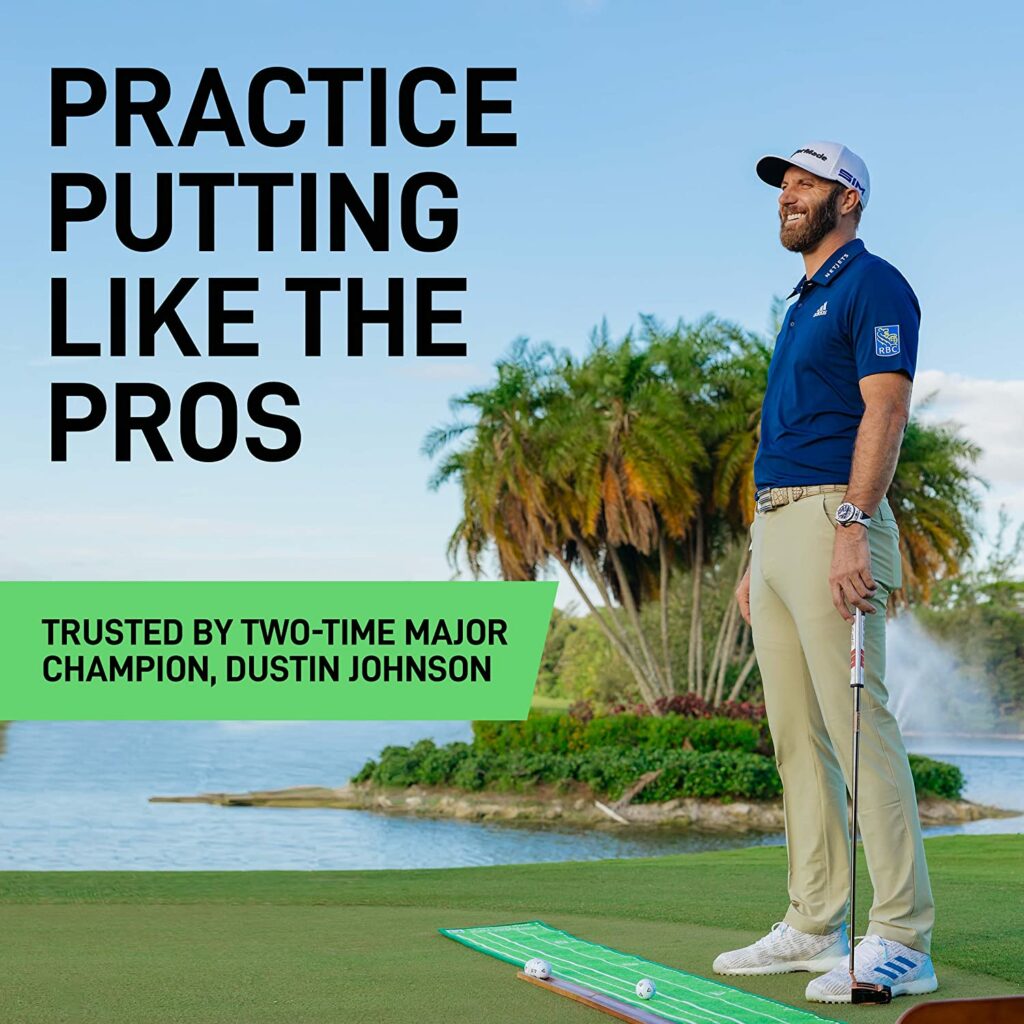 And if you're a golf enthusiast, you understand that to become a great putter; you'll need to put hours and hours into practice. Since creating spare time to go to the course during workdays might be impossible, you can always invest in an office putting set.
Although an artificial training set doesn't imitate a real golf course, it will help you practice your putting strokes in the comfort of your office. As a result, you can improve your putting skills and build your confidence to compete with your mates whenever you're on the course.
Well, with many online retailers and shops, getting the right set that suits your office space can be a daunting task. We've rounded up three of the best picks of office putting sets that will give you the best experience below.
---
Best for Training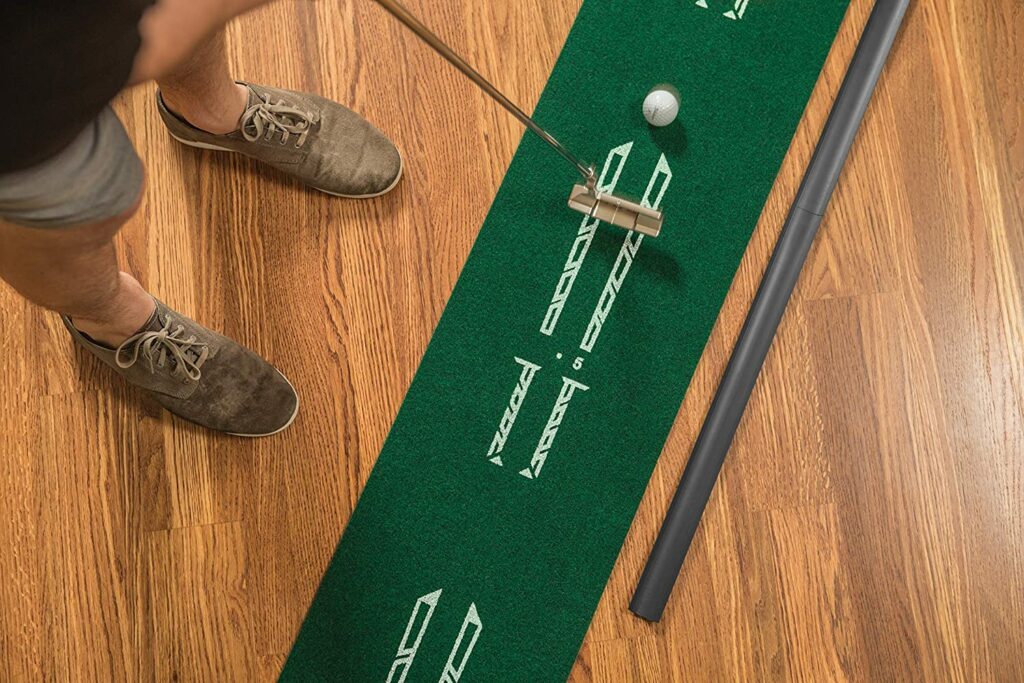 This indoor practice mat is designed to offer an effortless set-up and fit in almost any office, apartment, garage, or home. Moreover, it has graphic markings to indicate the length of follow-through and backswing for putts of 7,5 and 3 feet.
Integrated ball return feature that makes it great for training Has a true roll surface.
Comes with a steep incline to help you exercise the speed and distance of your stroke.
The mat takes less than two minutes to set up Portable, making it easy to move from one place to another.
The slope may not be compact enough to allow easy storage
---
Practical Feel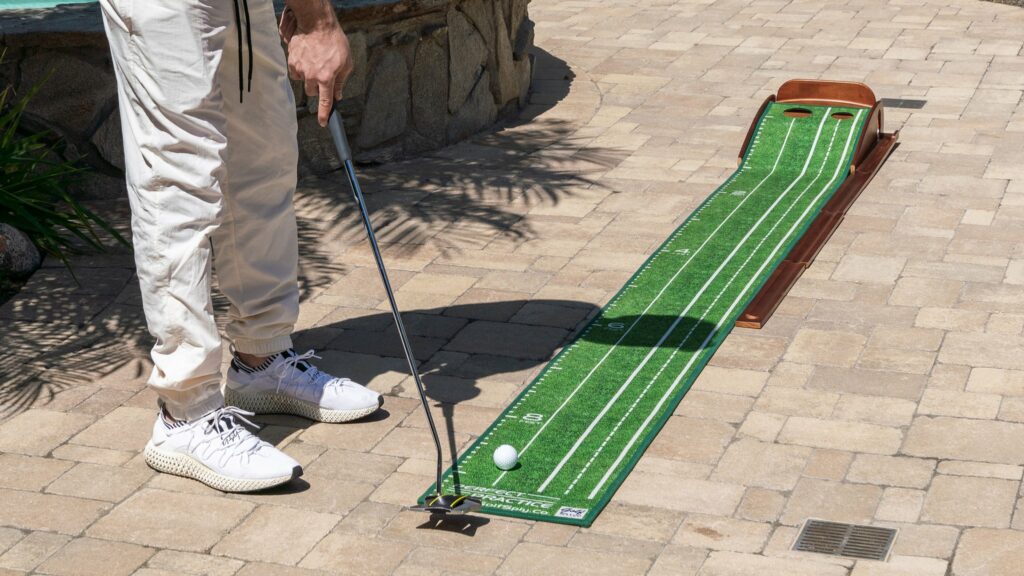 This mat brings a classic design and retro look into your office. Besides coming with two unique holes, the material used to make this mat is one of the best when it comes to quality.
Comes with dotted and solid lines to help you line up putts.
Has an automatic ball return feature.
Doesn't take up much of your office space.
Has various lengths, so you can choose one that perfectly fits in your office.
Made of artificial grass turf or astroturf, making you feel you're at the golf course.
Might be a bit long for some office spaces A bit expensive compared to other putting mats.
---
Portable and Easy to Use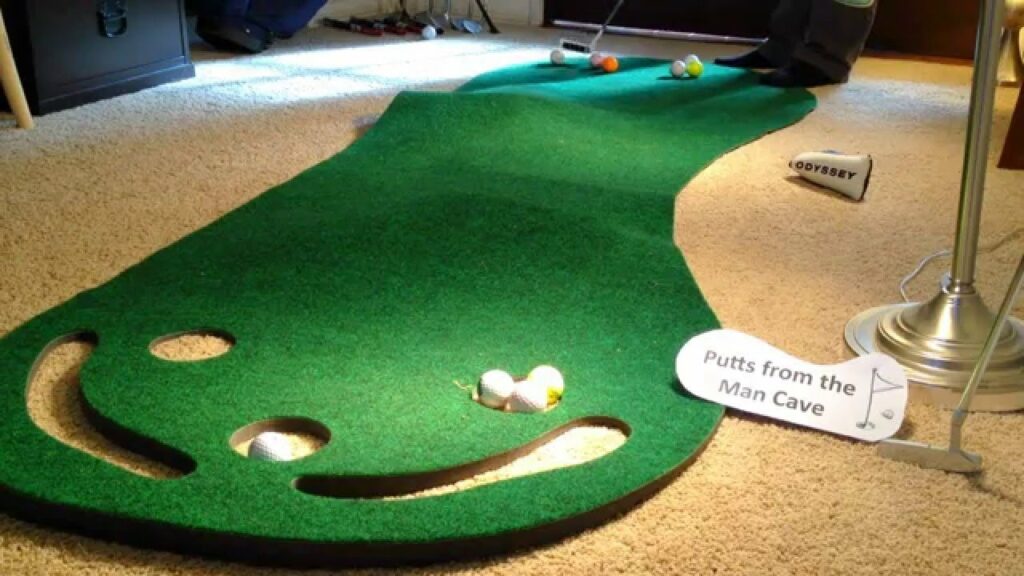 Whether you're a beginner or a seasoned golfer, this putting mat will improve your general performance. Its innovative design lets you practice various putt lengths and angles.
Manufactured with urethane and polypropylene foams to last long
Multiple holes that allow you to explore different angles Budget-friendly
Light, easy to assemble, and store in different locations
Lets you enhance your putting skills without the discomfort of going out
Its holes are made of plastic that may be flimsy and sometimes feel cheap
The mat is a bit thin
---
Buying Guide for Best Office Putting Set
If you're looking to become a great putter, it's crucial to buy an indoor putting green that meets all your needs. Therefore, to purchase the right putting set, your expectations should revolve around your budget, available office space, and the quality you want.
These factors call for thorough research that typically involves reading online customer testimonials, watching YouTube reviews, or consulting family members and friends who previously bought the set.
Here is what you should consider before buying an office putting set:
Size and Shape
Setting up an artificial course in your office might seem an easy task. However, you'll need a meticulous plan for everything to fall into place.
Your office space is one of the essential factors to consider before buying a putting set. As such, you should determine the size of your office, how much space putting green will eat up, and if it will affect free movement around your office.
Moreover, the shape of your office matters. Is it long, narrow, rectangular, L-shaped, or square? All this can help you choose a mat that fits perfectly in your office space.
Price
Putting sets are available at different price points depending on their unique features. That means you can get one for as low as $10 and another as high as $250.
As a golfer, you probably know that every dollar you invest should be accounted for—that is why you need to buy a putting mat that offers value for money. However, this doesn't mean you purchase solely on price because you can still get high-quality mats at mid-range prices.
Features
Any putting set you acquire should help you improve your putting numbers while letting you make the most of your free time. Here are some features you should look out for:
Automatic ball return: A putting green with an automatic ball return not only saves you a lot of time but also makes practice sessions efficient. Since you don't have to retrieve the ball yourself, you get to play without interruption.
Multiple holes: Having a variety of holes makes it easy for you to practice since you can start with easier options. With this, you can significantly improve your accuracy and confidence with every putting stroke.
Slope: Putting mats with adjustable slopes will keep things interesting because you can practice all types of putting techniques. What's more, slopes enable the ball to return easily for a re-hit—giving you more time to perfect your putting strokes.
Portability: Because you may need to travel from one office to another, you'll need a portable mat. It should wrap up into a little package that you can easily carry.
Material Quality: Mats made of lightweight material wear out more quickly than those made from heavier material. While thicker mats hold their form, thinner mates easily develop holes.
Mat markings: Mats with grid lines or other useful markings allow you to align your stance and ball address, enhancing your golfing skills.